4 motorists test drive car-sharing programs
4 motorists test drive car-sharing programs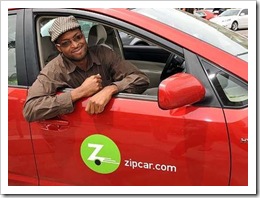 When it comes to going green, we talk a good game. After all, we're kicking our plastic bag addiction, we're swiping transit passes in record numbers and throwing the pop cans in the blue box became second nature long ago.
But when it comes to surrendering our car keys, few of us are ready to walk the talk, even among people who aren't daily drivers, says Michael Lende, the general manager of Zipcar, one of two vehicle-sharing programs in Toronto.
Urbanites, who don't own cars, are low-hanging fruit for car-sharing companies. Car owners, even those who leave their vehicle in the driveway most of the time, are a much tougher sell, he said.
The prospect of saving thousands of dollars annually and a member-based, 24/7-shared vehicle access, pay-per-use driving system isn't enough to persuade most people to give up their keys.
"There's a big psychological leap," says Lende. People think, "But I have this car. I've had a car since I was 17 (or) 20. My car is my transportation. That's how I get anywhere."
The Boston-based company runs an annual Low-Car Diet promotion that gives participants a free TTC pass for a month and $150 in Zipcar credits. That's about 15 hours of free driving given that Zipcar rents the majority of its vehicles for about $10 an hour.
Nevertheless, only four people, of the 15 the company hoped would try the `diet' in Toronto this year, showed up at the recent official launch.
That doesn't mean car-sharing isn't catching on. It's become sufficiently popular that even traditional rental agencies such as Hertz have launched hourly-rate programs in some American and European centres.
The growth of Zipcar in Toronto has been "exponential," says Lende. He won't say how many Zipcar members are here but suggests it's in the range of about 30 to 40 people – he calls them `Zipsters' – sharing each of the 300 vehicles stationed along Toronto's subway lines. That adds up to between 9,000 and 12,000 members.
Its Toronto rival, AutoShare, founded here in 1998, has about 9,000 members and is growing at an unprecedented rate, with 3,000 new members last year alone, according to president Kevin McLaughlin, although the recession has people thinking twice about how much they drive.
Car-sharing is for people who don't need to rely on a car for work or essential parts of their life, and that's why car-sharing isn't expected to expand outside the city any time soon, says McLaughlin.
But with car insurance rates rising and the recession and environment prompting more people to reassess how they travel, the Star decided to follow two of the Zipcar promotional participants through their month-long test to see how car-sharing measures up to having their own vehicle. The paper also invited AutoShare to connect us with two of its newer members.
"I THOUGHT IT would be a good opportunity to decide if I don't need a car since I live downtown," said Calgary import Chris Parkin, 27, who is taking the "low-car diet" challenge.
He expects that he and wife Danielle will rent a Zipcar so he can drive her to work at the airport for the rest of the summer and she will take transit home at night. Danielle returns to school at U of T in the fall.
The couple, who moved here in October, live near Sherbourne St. and Bloor St. They own a 1992 Honda Accord. Parkin anticipates renting a Zipcar on an hourly basis each day for a month to drive Danielle.
GRAPHIC DESIGNER Cory Marcus, 30, came across the Zipcar "diet" application on one of his favourite websites stumbleupon.com. The owner of a 1997 Civic hatchback, he considers himself environmentally conscious and says he's eager to make a contribution to city life.
"I don't think people give Toronto credit. We have a lot of great neighbourhoods, we have a lot of great food," said Marcus.
He expects his 15-minute commute, normally done by car from his North York home to his job in Scarborough, is going to get longer but saving $60 a week in gas by taking the TTC should help ease the inconvenience. Marcus expects to use a Zipcar about twice a week.
AT 23, JENNIFER ALLEN is going places in her career as a business analyst. But she won't be getting there in the 2002 Sunfire her parents gave her. She joined AutoShare after she couldn't justify the hundreds it was costing every time she took her car in for service.
She lives in walking distance to her job downtown from her home near Richmond St. and Spadina Ave., so Allen only used the car when she visited her parents in Etobicoke.
But with the King and Queen St. streetcars close to home and AutoShare's Honda Fit across the road from her apartment, Allen no longer believes she needs to own a car to enjoy the freedom of driving.
FOR A LONG TIME, Mark Hindson's job came with a car and he needed it. The job was in Markham. He lives near Danforth and Broadview Aves. But when Hindson, 36, found a new job downtown, he figured buying a car would be a waste. He's a cyclist, and the streetcar is right outside his door. "It would have been close to $600 a month for a car that really would sit in the parking garage six days of the week," he said.
After about 10 days as an AutoShare member, he still hadn't used the car stationed near his home and he figures his bike will be all the wheels he needs before the snow flies, with the exception of trips to IKEA and his parents' home in Whitby.