Affordable Auto Insurance in Canada: It Pays to Shop Around
Affordable Auto Insurance in Canada: It Pays to Shop Around
How do you buy a car? Do you choose a make and a model carefully depending on your needs and amount of money available? You will think over all the characteristics and options you need, consider all available discounts and special offers rather than going to the nearest dealership and asking for the first car you see, right?And there you have it! You're the owner of a shiny new (or used) car. But is this all? Can you jump behind the wheel and go conquer the roads of the country?
The answers is – not yet. In order to do it you'll first need to get auto insurance.
What is auto insurance and why do you need one?
Auto insurance is a very important expense item for all the motorists. In some cases the cost of insurance for six months can exceed the cost of the car itself for used cars.
The fact is auto insurance is mandatory in Canada and there are a number of good reasons for it. The car on the road is potential danger — you can damage another people's property or even put at risk somebody's or your own health and life. Besides, there is an opportunity your own car may be damaged or stolen by someone else.
Police officer can fine you for $5,000 to $50,000 for driving without auto insurance.
To avoid all these risks you should always insure your car. There is a wide variety of insurance companies in Canada offering different affordable auto insurance plans, and you should pick one as carefully as you choose a car.
Where can you insure your car?
There is own insurance policy in each Canadian province. There is a public auto insurance system in British Columbia, Saskatchewan, Manitoba and Quebec, while in Ontario (see tips on Ontario auto insurance), Quebec, Newfoundland and Alberta there are a number of private insurance companies.
Usually car insurance prices are lower in those provinces which have public auto insurance system. But to use this advantage you have to actually live in one of those provinces since you can only insure your car at your home address.
Historically, there is a variety of insurance companies in Canada, and if you shop for one carefully enough, you will be able to find really cheap auto insurance. You can also find quick auto insurance quotes on insurance companies' websites.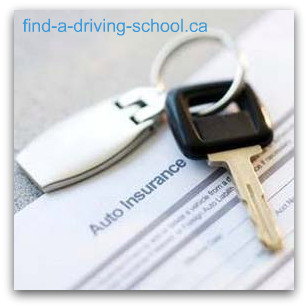 What insurance types are there?
There are three basic insurance types:
 Liability — covers bodily injury or property damage caused to the third party by the insured driver. Unlike the other two types liability coverage is mandatory.
 Collision — covers any insured car's damage which is a result of collision.
 Comprehensive — covers all other incidents such as theft, fire, vandalism and so on.
If you fully own your car, you can only insure the liability, but if it is leased or financed you'll need to get all three types covered.
What criteria affect insurance price? How is insurance price calculated?
There are a lot of factors insurance companies use to determine insurance rate for each case:
Where you live — for criminally dangerous areas insurance rate will be significantly higher.
Age — for new drivers from 16 to 18 years old insurance rate will be very high.
Marital status — married people are generally considered to be safer drivers.
What type of license (G, G1, G2) you have and when it was obtained.
Whether you have any tickets received in Canada and whether you have had any accidents — in that case insurance rate raises dramatically.
Your insurance history.
Make, model and type (sometimes – even the color!) of insured car.
Preferable deductible size — amount of money insured driver pays from own pocket in case of insured event. The bigger your deductible is, the cheaper your insurance will be.
Where can you compare auto insurance rates?
Sure it is a lot of information to keep in mind while searching for suitable insurance company. But is there a way to asset all the parameters automatically? Yes, there is. For example, at www.kanetix.ca you can see the best auto insurance rates for all these parameters and even more including how many kilometers your car makes a year, how far you drive to work, whether you need to transport any tools and so on. It also recalculates your insurance quote for different deductible sizes, so you can always find yourself affordable auto insurance.
This service allows you to compare car insurance prices by calculating them for different insurance companies.
How can you lower your insurance premium?
Insurance companies are interested in keeping their clients, so they will lower your insurance premium if you are insuring more than one vehicle or if you have your house insured in the same company.
You can count on inexpensive auto insurance if you haven't had any tickets or accidents recently. So it can be less expensive for you to pay for the damage by yourself in case of minor accident than paying more for insurance in the next few years.
Some companies are offering to "forgive" your first at-fault accident if you purchase an optional accident protection endorsement from them. This may seem an extra expense, but you will still be able to buy cheap insurance even if you have an accident.
You can also lower your insurance price by going for higher deductible which you will need to pay in case of the accident.