About the Good Friends Driving Institute: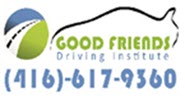 Good Friends Driving Institute is fully committed to give safe, dependable and trustworthy services to everyone. Our school focuses on giving extra attention to students and we make sure that all the information needed to achieve success is taught and obtained.
Moreover, our team of Instructors are fully educated, well experienced and know how to work with all different kinds of drivers.
Not to mention, we create an atmosphere in which everyone is comfortable with the driving instructions and teachers. Instructors of Good Friends Driving Institute engage in providing information, and teach in a relaxed and joyful manner to ensure that our students are confident and prepared for what they are going to be taking on. We have several locations throughout Markham, so please contact us for further details through phone or email, and join us today! We guarantee you wont regret it.



Visit goodfriendsdriving.com for more information.