How to Find a Great Auto Mechanic: Simple Steps
How to Find a Great Auto Mechanic: Simple Steps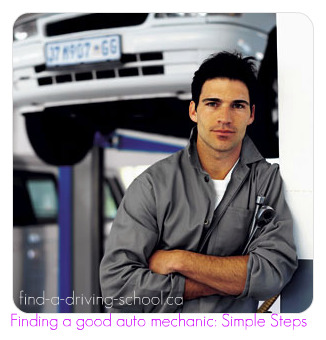 Finding an excellent auto repair mechanic is practically as important as finding a good doctor. When your car suddenly dies at the roadside, a good mechanic is really of utmost importance. Unfortunately, not every auto mechanic is honest and scrupulous not to cheat on you. Here comes the question: where does one find an excellent mechanic for auto repair?
We've prepared some useful tips which can help you find the right mechanic, a professional who won't turn your car into a piece of scrap.

Start looking for a mechanic before you need one.
Probably it's the best idea. You need to have an expert in auto repair before your car "dies". Keep this in mind and you'll never feel frustrated having no one to help you if your car suddenly stops. There's not much hope that mechanics from the Yellow Pages catalogue will be suitable for helping for you. As soon as you buy a new car or move to a new city or district, start searching for a professional auto repair mechanic you can rely on.

Look for repair stores which do not belong to car dealers networks.
In most cases auto dealers are real experts in auto repair, but they also got the highest prices. As for large repair shops chains – generally they've got plenty of clients and don't bother about high quality of the job. Taking into consideration all pros and contras – it's better to find an independent professional auto repair shop. These small repair shops have to compete with large ones, so they do their best. It's a good idea to ask your friends for recommendations of a suitable repair shop, especially if friends have the same car model. Don't forget to compare recommendations, so you'll have a chance to find the best option.


Ask car clubs members.
Car club members are usually good experts in auto repair, especially if it goes about antique car clubs. You can always get a piece of advice if you call them.

Look for auto repair shop with a professional certificate.
Professional certification means that mechanics have at least two years' auto repair experience and they have passed several competency exams. Although this doesn't mean that a mechanic is trustworthy and honest, but at least they have a basic level at auto repair.

Make a detailed check of the auto repair shop
Try to find out if there are any complaints against the repair shop you've chosen. Ask people about their personal experience after visiting the shop. Nowadays information is power.

First give simple tasks to the mechanic to test him.
After choosing a potential mechanic, you'd better test his honesty and competency giving him minor repair jobs, or ask him to check the oil. If the result is fine, keep your new mechanic.
As a conclusion, leaving your car at an auto repair shop, make sure that everything is recorded in an official form of repairs and get a written guarantee. This way you'll diminish the risk of being overcharged. Don't forget to use the Internet for finding out an average cost of different types of auto repairs.
When you find an excellent mechanic for auto repair, appreciate him. You are lucky to find a treasure.