About the Ocean Park Driving School:
General Info

Ocean Park Driving School (2006) Ltd. has been teaching young drivers in the White Rock/South Surrey/Panorama Ridge area for the last 17 years
helping make our roads safer with in depth classroom instruction and practical in car on the road training.
OPDS employs ICBC approved professional instructors only.
When comparing driving schools always ask this question.
What To Expect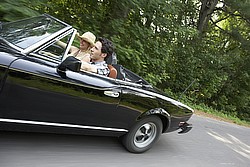 What To Expect From Our Driving Lessons
Each in-car lesson is for 1 hour.
It will begin with the Instructor describing the correct procedure for each maneuver that will be covered during that lesson. There will be a maximum of 1 student per vehicle for training purposes. There are a variety of lesson configurations that can be tailored to fit individual requirements.
Basic course outline for 10 hour package. Please note that defensive driving maneuvers are continuously discussed throughout each lesson
Lessons will cover:


Car controls, correct hand on wheel position, steering techniques, turning procedures, road position, stop signs, braking and observation.


Road Sign's, blind spot areas and the necessity of shoulder checks will be fully explained and put into practice.


4 way stops, yield signs, land changing, observation and correct following procedures.


Theory and practical application of traffic lights.


Parallel parking, curb parking, hill parking and observation procedures.


Freeway: Entering, exiting, lane changing, passing, merging and general driving. Defensive driving on freeways is also discussed.


Reversing, 3 point turns, stall parking, hand signals and general driving.


A complete review of all of the driving techniques learned in the previous sessions, (with the exception of freeway driving).


Lessons 9 & 10 are generally reserved for the day of the Road Test Students as students receive a 1-hour and 15 minute warm up lesson prior to their appointment time. The remaining 45 minutes are allocated for the Road Test


All students are issued a Progress Report Card, which will be completed after each lesson.
Parents should continually review this report. To benefit most from our driving program, we strongly recommend that students complete 2 hours practice between each lesson, totaling a minimum of 16 hours.
No driving school can guarantee that a student will pass the road test after a set number of lessons. At Ocean Park Driving School Limited, we will give you an honest evaluation of your driving capabilities.
Visit www.opdrivingschool.com for more information.