ON: Tough law would put brakes on auto theft
ON: Tough law would put brakes on auto theft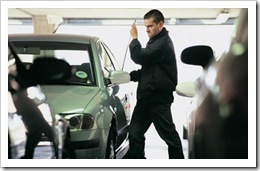 Senate under pressure to pass Bill C-26 this fall.
Conservative and Liberal leaders expect new laws will be in place this fall that should stop countless vehicles stolen in the GTA from being shipped abroad.
Two factors have exacerbated the problem: Canadian border officials don't routinely check shipping containers to see if the cars inside are stolen, and police auto theft squads have been emaciated.
The Star found many instances of stolen cars being shipped overseas in cargo containers by companies using falsified documents.
Parliamentarians on both ends of the political spectrum say they are frustrated by lax laws that allow auto theft rings to ship stolen vehicles abroad with relative impunity.
Both sides say they hope the recent media spotlight on the issue will lead the Senate to pass Bill C-26, which would amend how the Criminal Code looks at auto theft.
If passed, Bill C-26 will add a new offence to the Criminal Code: theft of a motor vehicle. A third conviction would get a mandatory prison sentence, while those convicted of trafficking stolen cars could get five years in jail. Altering a vehicle identification number would also become a crime.
The bill would also allow the Canada Border Services Agency to prevent cross-border movement of property obtained through crime.
While Bill C-26 (awaiting approval by the Senate, which is in recess until September) will make border agents responsible for stopping stolen vehicles from leaving the country, critics worry it will do nothing to stop the bleeding of police resources away from auto theft.
"If we're scaling back our capacity to deal with these crimes, then it is going to become an incentive for criminals to ramp up their activity," said MP Mark Holland, the Liberal party's public safety critic.
Auto theft in Canada totals $1.2 billion a year. More than 20,000 stolen vehicles are shipped abroad every year.
Auto theft rings in Toronto routinely steal cars, transport them by rail to Montreal and then ship them abroad.
Some even wind up in the hands of Al Qaeda and other terror groups, which use North American cars as bombs in Iraq and Afghanistan.