Ontario Car Insurance: How to Reduce Your Rates
Ontario Car Insurance: How to Reduce Your Rates
Tired of facing your annual Ontario car insurance bill? There is a good chance that you are actually paying more than you need to for the coverage that you maintain on your vehicle.  Let's look at what you can do to reduce your auto insurance rates and save big in Ontario.
Don't Over-Insure Your Auto
While you want to be adequately protected from loss in the event of an accident, you don't want to over-protect yourself, either.  If you are a homeowner, a business owner, or own a vehicle that is worth a significant amount of money or that is being financed, you will obviously need a higher level of auto insurance than you would if you are driving a ten year old clunker and living in a rented house.  Base your auto insurance needs on the things that you need to protect.
Be a Good Driver
Perhaps the single biggest factor used when determining the premiums that you will pay for auto insurance is your driving record.  Drive the speed limit, wear your safety belt, pay careful attention when parking, avoid sending text messages or talking on your cell phone while driving, and don't fall victim to "road rage".  Driving skills a little under par? Consider taking a defensive driving course that can help you hone your abilities and become a better driver.  Proof of taking such a course gives your auto insurance carrier reason to believe you are more responsible.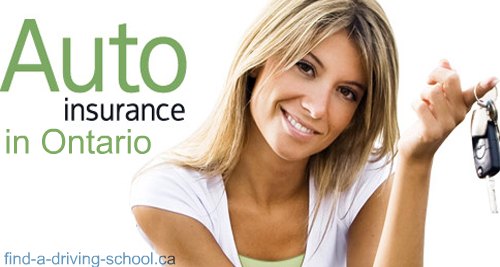 Maintain Good Credit
Many people do not realize that their credit scores can affect the cost of their auto insurance.  When assigning your risk level as an insured, Ontario insurance companies factor in your previous credit history.  If you have bad credit, work to resolve any outstanding credit issues and always pay your bills on time, each and every month.
Look for Discounts
If you haven't shopped for auto insurance in quite some time, you may not be getting all of the auto insurance discounts that you qualify for. You may qualify for a discount if you are a member of a professional organization or auto club (such as CAA) or for installing a theft-deterrent system on your vehicle, among other discounts.
Compare Ontario Auto Insurance Rates
The auto insurance industry in Ontario is highly competitive and they want your business. That is why it is important that you compare auto insurance rates with multiple companies prior to selecting the insurer that will service your needs. Doing an online comparison of policies from top Ontario insurers is easiest when you opt to use an online insurance comparison website that can deliver quotes instantly after you fill out basic information about your particular situation. These sites also give you a good way to compare the cost of different levels of coverage quickly and easily to determine how much auto insurance you can actually afford. It is a good idea to compare Ontario car insurance rates at least once each year to make sure you are getting the most for your money.
if ($post_id === 7526) { ?>
Share this infographic on your website or blog:
} ?>