Ontario: Car Insurance Rates To Skyrocket
Ontario: Car Insurance Rates To Skyrocket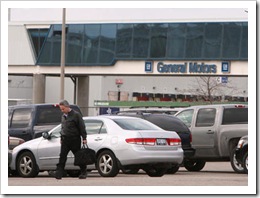 Get ready to pay more – potentially much more – for auto insurance.
Ontario motorists face the biggest increases in insurance premiums since the province temporarily froze premiums in late 2003.
The latest round of increases approved by regulators has brought the average increase over 12 months to 7.8 per cent, with some insurers raising rates by twice as much.
Policy holders with CAA, Scottish & York, COSECO and TD General insurance companies will see their rates rise 10 per cent or more when policy renewal statements start arriving over the next several months.
Regulators approved earlier increases at COSECO and Scottish & York, which totalled more than 15 per cent, as have increases at Economical and Pilot.
Intact Financial, the former ING Canada, has increased Ontario car insurance rates about 17 per cent since October of 2007, a spokesman said yesterday.
Don Forgeron, president of the Insurance Bureau of Canada, says the double-digit increases, including some at companies with lower average increases, may signal worse to come.
"Historically we have seen modest rate increases for a period of time and then the pace quickens, and there is no warning of when that will happen," he said.
Premiums are rising in the wake of investment losses and the increased demands on insurers to pay more for medical and rehabilitation services for victims of minor injuries.
Insurers are anxiously awaiting a decision by Ontario Finance Minister Dwight Duncan regarding a package of changes they hope will help control cost increases and avert a consumer backlash.
Changes enacted in 2004 led to a period of modest price reductions, but pressure for price increases has been building for the past two years.
Insurers of autos, homes and businesses generally earned profits last year, but as a group they lost about $390 million on their Ontario auto insurance business.
Economical Mutual Insurance Co. of Waterloo lost $102 million last year. The Financial Services Commission of Ontario has approved its request for three rate increases totalling 19.7 per cent since last summer.
Some large insurers have managed to limit their requests for premium increases to less than 7 per cent in the past year.
These include sales leaders State Farm Mutual, Co-operators General (sister company of COSECO) and Security National, whose insurance is marketed to university graduates by TD Meloche Monnex.
Rick McCombie, a senior vice-president at Co-operators in Guelph, said the COSECO division needed larger increases because more of its clients are in the Greater Toronto Area, where losses have been higher.
"But there is another (smaller) increase coming at (Co-operators)," he said.
"I think everybody is feeling the same pain and we are trying to have our rates to reflect the current loss activity."
Andrew Wicken of InsuranceHotline.com says brokers are still willing to deal with consumers who use the company's online service to shop for cheaper rates.
But there are signs insurers are taking steps to drive customers away, or avoid attracting additional customers in Ontario.
President's Choice Financial, the Loblaw Cos. Ltd. subsidiary, has stopped selling home and auto insurance.
Neither Aviva Canada, which underwrites existing policies, nor President's Choice responded yesterday to a series of questions posed by the Toronto Star.
Randy Carroll, chief executive of the Insurance Brokers Association of Ontario, said brokers have faced obstacles getting the cheapest rates available from Aviva, which operates under the names Aviva, Pilot and Elite. And customers of various insurers have had home insurance policies cancelled or their premiums increased, which can have an impact on their auto insurance rates.
Unless they move both home and auto policies to another insurer, they lose a multi-policy discount.
Carroll said he suspects some insurers are dumping home insurance policyholders because of poor credit ratings. Regulators have warned insurers not to use credit scores when pricing auto insurance, but by hiking home insurance rates insurers can drive away unwanted auto business. The province does not regulate prices or underwriting practices for home insurance.
These attempts to cut losses have prompted other insurers to respond. Lombard Canada has told brokers it will impose a 25 per cent surcharge on clients moving their home insurance coverage from insurers such as Economical and Pilot.
It will also stop offering loyalty discounts and first-accident forgiveness to new auto insurance customers.
Bulletins to brokers indicate Pembridge Insurance and AXA Canada have also taken steps to avoid customers driven away by other insurers.
source: http://www.thestar.com/article/667105