Ontario: Car went wrong way on 401 for nearly 30 kilometres
Ontario: Car went wrong way on 401 for nearly 30 kilometres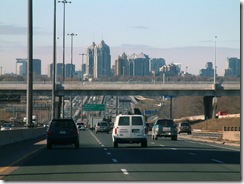 Police say a Brampton woman drove her car nearly 30 kilometres the wrong way on Canada's busiest highway.
Chatham-Kent OPP said they were alerted by several other motorists around 2:20 a.m. today that a westbound car was driving in the eastbound lanes of Hwy. 401 between the town of Dutton, west of London where it was first spotted, to Orford Road just east of Thamesville.
The 2005 Toyota traveled at least 27 kilometres before it was stopped by police.
There were no reports of accidents or injuries.
The 37-year-old woman, whose name wasn't released, was arrested and taken to hospital for observation.
Police said charges are pending and the investigation is continuing.
For the latest local coverage, read The London Free Press on the web or in print.