Ontario: Drivers Brace For Full Closure Of The DVP All Weekend
Ontario: Drivers Brace For Full Closure Of The DVP All Weekend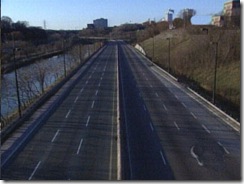 Whoever said getting there is half the fun never had to do it with one of Toronto's major highways closed for two days. Drivers heading downtown on the weekends don't usually encounter gridlock but that may change this Saturday and Sunday, thanks to a full closure of the Don Valley Parkway.
The DVP will be shut down in both directions from the 401 to the Gardiner from 2am Saturday to 5am Monday. The reason: crews need it clear to perform their annual spring maintenance, a yearly ritual that involves cleaning out the catch basins, fixing the lights, filling in potholes and repairing whatever damage winter did to the always busy route.
It means a major hassle for those on the road on what promises to be the first true summer-like weekend of the year. The city is aware of the inconvenience but insists it's better to get it over with all at once than try to do the job piecemeal over a number of days or weeks.
Alternates, like Bayview, Don Mills, Kingston and Victoria Park Ave., are expected to be clogged with traffic as drivers look for another route. The city is suggesting you give yourself extra time or take the TTC.
There is some good news in all this. It comes a bit earlier than its usual May date and it doesn't appear the Gardiner will be touched until the fall. The Jays are also out of town, which means there will be several thousand fewer fans trying to reach the Rogers Centre both days. And the good weather we're expecting could allow crews to finish the job early and reopen some sections of the roadway before Monday.
The DVP closure is the biggest roadblock in the city but it's not the only one this weekend. A stretch of the 407 from McCowan to Brock Rd. will also be shut down starting 5am Saturday. It's expected to reopen by 6pm Sunday.
The spruced-up Don Valley Parkway will be back in full operation by the Monday morning rush.