Ontario Driving License
Steps to get your Driving License in Ontario
NEW: See our latest infographic 'Ontario Driving Licence Explained!'!
As of April 1, 1994, all new Ontario drivers applying for their first car or motorcycle license enter Ontario's Graduated Licensing System (GLS).
New Canadian drivers earn full driving privileges in two stages and have five years to complete the program.
Stage 1
A new Canadian driver must hold a Class G1Ontario license for a minimum of 12 months before attempting the road test. This time can be reduced to eight months if you successfully complete a Ministry-approved Beginner Driver Education Course
After 12 months of prohibition-free driving, you qualify to take your first road test—the Class G1 which deals with basic driving skills.
To obtain an Ontario driver's license, you must be 16 years old. If under 19, bring your parent or legal guardian to sign for your application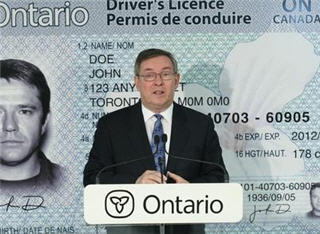 Stage 2
For the Class G2 (stage 2) some of the learner's (L) license stage restrictions are removed.
You must pass two road tests to become fully licensed. Passing the first road test lets you move to Level Two (Class G2) and the second one gives you full Class G driving privileges. Level two road test deals with more advanced knowledge and driving skills.
What to bring to the test center:
When applying for an Ontario driver's license for the first time you must present proof of identity. If you are under 19 years of age you will need to provide a signed parental consent (proof of legal guardianship must be provided if a guardian signs), unless you are married and have proof.
All new Ontario license applicants must provide at least one original-primary identification document showing your legal name and birth date.
Bring the following items to the test:
2 pieces of identification
Money for test fees -- cash, debit or credit card
Glasses or contact lenses (if you need to wear them to drive)
Money for test fees (if applicable)
Glasses or contact lenses (if you need to wear them to drive)
Beginner Driver Education Student Record (if licensed between 8 and 12 months)
Primary identification document
Photocopies are not acceptable
Passport (Canadian or foreign)
Canadian Citizenship Card with photo
Permanent immigration documents
Permanent Resident Card (PRC) or
Record of Landing (Form 1000) or
Confirmation of Permanent Residence (Form IMM 5292)
Temporary immigration documents
Student Authorization (IMM 1442)
Employment Authorization(IMM 1442)
Visitor Record (IMM 1442)
Temporary Resident's Permit (IMM 1442)
Refugee Status Claim (IMM 1434)
Acknowledgement of Intent to Claim Refugee Status (IMM 7703 with photo)
Report Pursuant to the Immigration Act (IMM 1442 with photo)
Secondary identification document
Photocopies are not acceptable
The following documents are acceptable as proof of date of birth and legal name
Canadian or U.S. Birth Certificate
The following documents are acceptable as proof of signature:
Driver's License (Canadian and U.S. only)
Identity Card with signature(issued by Canadian province/territory or U.S. state authority)
Canadian Certificate of Indian Status
Ontario Student Card with signature
Ontario Health Card with applicant's signature (Clients may choose to produce their Ontario Health Card for proof of signature. The Health Card and Health Number will not be recorded or photocopied.)
The following additional documents are acceptable as proof of legal name:
Marriage Certificate (Canadian or Foreign, government issued)
Change of Name Certificate
Court Order for adoption, change of name or divorce (must bear legal name, date of birth and court seal)
Requirements for getting the license
The applicant must be 16 years for learners license
The applicant must pass Class-G1 road test, Class-G2 road test and written knowledge test.
The applicant is required to have an eye test before he gets Ontario driver's license
Fees required for getting the license
You must pay a fee when you apply. This fee includes the cost of the knowledge test, your first road test and a five-year licensing fee.
Website for Ontario practice questions and driver handbook online
Ontario Driving G1 Practice Tests
Ontario Drivers Handbook Online
Website and phone for Ontario driving test centers
Contact customer service at phone numbers:
Licencing Call Centre 416-235-2999 or Toll-free for Call Centre 1-800-387-3445
Road test booking Call Centre 416-325-8580 or Toll-free 1-888-570-6110
http://www.drivetest.ca/en/loc/Dec.aspx for test centers