Ontario: New driving law nets 600 suspensions
Ontario: New driving law nets 600 suspensions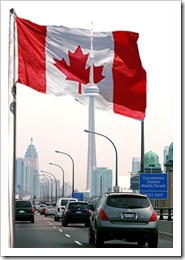 Police are reporting fewer crashes related to alcohol on provincial roads this holiday long weekend.
But they say it's too early to determine whether Ontario's new drinking and driving penalties are playing a role in the downturn.
Const. Dave Woodford says fatalities involving liquor are down overall.
While he won't have a weekend tally until Tuesday, he said since May 1 there's been at least 600 people given three-day suspensions for driving while in the warn range.
Previously, motorists only received a 12-hour licence suspension for blowing in the warn range, which means driving with a blood alcohol level between 0.05 and 0.08.
Woodford says two people have also been caught a second time, receiving seven-day suspensions of their licences.
As of May 1, drivers caught with a blood alcohol level between 0.05 to 0.08 will have their licence suspended for three days for their first offence, with penalties that increase for every offence.
The third time a driver is caught, their licence is suspended for 30 days, and the motorist will have to complete a remedial alcohol treatment program.
Under the old rules, drivers' licences were only suspended for 12 hours for driving in the warn range, no matter how many times they were caught.