Ontario: Tougher Ont. drinking-and-driving law looms
Ontario: Tougher Ont. drinking-and-driving law looms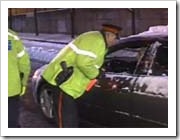 Ontario's tough new impaired driving laws take effect Friday.
As of May 1, a driver caught with a blood alcohol level between 0.05 to 0.08 — the so-called warn range — will have their licence suspended for three days.
If caught with a similar level of booze in their system a second time, their licence will be suspended for seven days and the driver will have to attend an alcohol education program.
If caught a third time, the driver's licence will be suspended for 30 days, and the motorist will have to complete a remedial alcohol treatment program.
Drivers caught a third time will also have an ignition interlock condition placed on their licence for six months.
That means the suspended motorists cannot drive any vehicle that does not have an ignition interlock device installed.
The roadside licence suspensions cannot be appealed and will be recorded on the driver's record.
The suspensions will be considered when determining consequences for subsequent infractions for up to five years.
Previously, drivers received only a 12-hour licence suspension for blowing a blood alcohol level between 0.05 and 0.08, no matter how many times they were caught.
Another Ontario law that would impose a zero blood-alcohol limit on all drivers 21 and under isn't expected to come into effect until the summer of 2010.
if ($post_id === 7526) { ?>
Share this infographic on your website or blog:
} ?>