QUEBEC: Drivers turn to the Internet to find out where to park
QUEBEC: Drivers turn to the Internet to find out where to park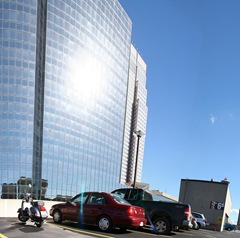 MONTREAL
That time-tested ritual of cursing under your breath while circling the block endlessly looking for that prime parking spot is disappearing with a few simple clicks of a mouse.
At least that's what a couple of entrepreneurs from the Montreal-area are hoping after launching a website called maplace.ca last month. The website allows you to sign up and put in the particulars of where and when you need a spot. Then the computer does the rest, tracking down the spot, reserving it and taking payment by credit card.
"The reaction has been good and the clients are happy because they know exactly what to expect when they get there," said Philippe Guevremont, who founded maplace with partner Dominic Chartrand.
"It's a new tool and people have largely been happy with the service and they like the (website) idea in general."

The Quebec duo got the idea from a university project designed to maximize use of parking spots at Montreal university UQAM, so that the spaces didn't go unused.
"If we were able to do it at UQAM, perhaps there would be an interest to do this across the island of Montreal," said Guevremont.
Largely through word-of-mouth, their company is attracting attention, with about 700 people having signed up for the service.
Drivers are given a grace period of about one hour to get to the spot.
Guevremont says it saves time and gas and since it's entirely credit card based, there's no need to frantically look for cash or exact change for the meter.
For now, the parking spots are limited to the downtown area or near a metro station south of the city.
It's a quintessential question plaguing most major North American cities -- what to do about the number of cars and the gridlock they cause in downtown cores while searching for a spot.
In the U.S., different cities have experimented recently with everything from sensor-embedded parking spots that allow drivers to know when a spot has been vacated.
Others have explored the marketplace for spots.
That's what prompted Toronto's Aynsley Deluce and Matthew Ball to launch parkingspots.com in March 2008.
Deluce says there are 290 million cars in North America and nine million in Ontario alone.
"Everyone has to park (at least) twice a day -- once at home and once at work -- so when you do the math, it's quite a big business," she said.
"It's just such a frustrating thing to do and most people do it multiple times a day."
Deluce describes parkingspots.com as an online marketplace for people with parking and people seeking parking.
"We're more like a dating service for parking spots, think of us as a Lavalife for parking," Deluce says.
"It's a bit of a novelty now and people are coming up to us and saying thank God someone is finally aggregating all this information into one location."
It's free for users to browse the site and pick a spot. Owners of the spots call desperate drivers in need and parkingspots.com makes money by charging the commercial sellers a fee.
Those who are just selling a space on a driveway aren't charged.
The parkingspots site has primarily offered monthly parking, but has plans to add hourly and event parking. The service has grown to 45 North American markets and gets about 5,000 hits a month.
The Canadian Automobile Association says looking online for parking is a sound, efficient move that saves both on gas and lessens the impact on the environment.
"While parking spaces with commercial companies are heavily advertised, they aren't the only spots available," says Tim Shearman, president of CAA.
"Many home owners with extra space in their laneway can offer parking at great prices, but you won't know about these deals unless you look online."
Deluce says its a sign that people are doing their homework.
"If you look at the parking industry, traditionally the way to find parking is you start circling the block," Deluce said.
"It's really tedious and really frustrating and you don't really know about availability until you go up to the window and look in."