About the Say Dez Safe Driving Consulting:
General Info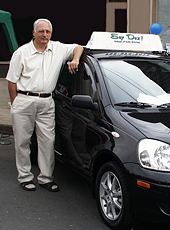 Located in Hamilton, Ontario, "Say Dez!" Safe Driving Consulting offers help to already licensed drivers and to those who may need remedial driving courses.
Dez Miklós, owner and operator of the "Say Dez!" Safe Driving Consulting provides instructions for the Canada Safety Council's Defensive Driving Course (DDC-6)® and the 55 Alive Mature Driving Course®. Time and location for these classes will be arranged as required.
Using proven techniques, Dez teaches the fundamental "rules of the road" and explains in understandable terms how a vehicle will behave in any condition.
About Us
Dez Miklós has been in the driver education field since 1992. He is certified as a Driving School Classroom Instructor and as an In-Car Driving Instructor by the Ontario Safety League.
Furthermore, he is also registered as an Instructor of Defensive Driving Courses (DDC-6)® by the Canada Safety Council.
Dez has a "D" class driver's license and is able to teach automatic or gearshift vehicles (gearshift vehicles must be provided by student).
The aim of the "Say Dez!" Safe Driving Consulting is to provide you, the driver, with the best possible training to become a safe and conscientious car operator in today's vehicle-oriented society.
On November 14th, 2008, Dez was elected president of the Driving Instructors' Golden Horseshoe Association (D.I.G.H.A.). In this capacity Dez liaises with the Ministry of Transportation of Ontario on behalf of the association.
Visit www.saydez.com/ for more information.