Tips to stretch your auto maintenance budget
Tips to stretch your auto maintenance budget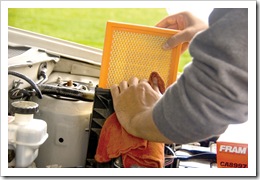 In today's economy, everyone is looking for ways to stretch their dollars. Spending money on auto maintenance is a fact of life for most Canadians, but here are a few quick money saving tips that will really make a difference in your annual budget:
Use a premium oil filter. A Fram Extended Guard synthetic oil filter is a good choice. Regular oil changes are essential to keeping a vehicle running smoothly, but using a filter designed for longer drain intervals will help you go more kilometers between oil changes.
Change your dirty, clogged air filter to help improve your fuel economy and save more money at the pump.
Purchase a premixed 50/50 antifreeze coolant which is compatible with antifreeze/coolant in all vehicle makes and models, such as Prestone Premixed LongLife. This way, you can use it to top off all the cars in your household.
Do not defer regular maintenance. Think of it this way, you can pay now for regular maintenance or potentially pay much more later for costly repairs or vehicle breakdowns.
More money saving ideas are available online at honeywellcpg.com.
-- News Canada