Winnipeg: Driver calls cops during high-speed chase
Winnipeg: Driver calls cops during high-speed chase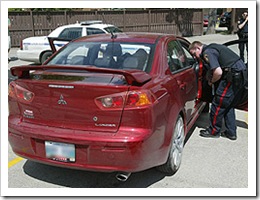 A man led police on a high-speed vehicle chase yesterday in and around Winnipeg, while calling the city force numerous times on a cellphone to update officers on his location.
The unusual incident involving a stolen car began about 7:45 a.m. when a man made what police described as a "threatening" 911 call from a payphone in Transcona.
Said he had gun.

Police were unable to find the suspect, though he called officers again about 11 a.m. to tell them he was in a car and that he had a gun.
Officers in several cruisers went in pursuit of the man — who was driving a Mitsubishi Lancer sports car at high speeds — on a route that took them onto Regent Avenue and Lagimodiere Boulevard before the suspect eventually made his way onto the north Perimeter Highway.
Heading west around the city on the Perimeter, the suspect continued to call police to tell them where he was.
Winnipeg police, who apparently pursued the man without RCMP involvement even though the chase extended outside city limits, said it's fortunate the bizarre incident didn't result in any injuries.
"He was driving pretty erratically," said Const. Jason Michalyshen.
After reaching the south Perimeter, the suspect apparently turned the Lancer north onto St. Mary's Road and continued at speeds of up to 90 km/h until police in about 10 cruisers cut him off and surrounded him about 11:35 a.m. as he was preparing to turn north onto Dunkirk Drive.
"I saw one, two, three, four cop cars — and I'm like, 'What the hell?' " Stephanie McNabb, a hair salon employee, said of the spectacle as the chase ended outside her shop, with officers drawing their firearms and ordering the man out of the car.
"Their guns were drawn, and I'm like, 'Oh, my God — what's going on?' " she added, noting she could see very little of the suspect. "There were too many police standing around the car."
McNabb said officers "gun-pointed him down to the ground" and handcuffed him.
A 25-year-old man is in custody facing numerous unspecified charges while police continue to investigate, Michalyshen said, adding no firearm was found.
Michalyshen refused to speculate on why the suspect wanted to talk to officers during the pursuit.
RCMP acting spokesman Cpl. Bob Hodyr said he's unaware of Mounties taking part in the pursuit.